You can use this page to download the Portable Kanban task management tool developed by Dmitry Ivanov and originally available on his personal page http://dmitryivanov.net (link updated, as it looks like Dmitry's website is down)
The download link below is shared with permission from Dmitry himself.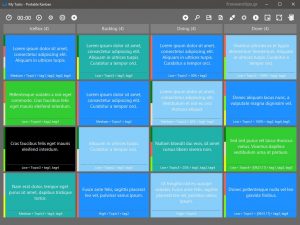 Portable Kanban is a completely free and portable, native, Windows only application that I use daily to manage my personal work related tasks.
What I like about it:
Works offline
Instantly responsive – no need to wait for a page to load
Very customisable – you can organise categories, add custom fields, etc.